Robert Pearl Antiques

  Southern Antiques and House Restoration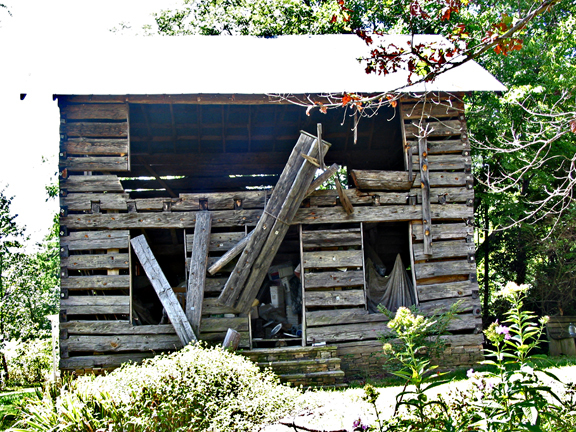 Judd  Log House, Davie County, NC  ca. 1860

Photo taken September, 2009

How far "gone" can a house be before it is past restoration? That depends on the owner and the people willing to risk their lives for it. George Judd is a lover of all antiques and like many of us, tends to take on more projects than he can handle. This house was moved and put under roof some fifteen years ago. Since, logs have fallen and deterioration has set in. But not to worry, I have a plan. Should be like a deck of cards, pull one out, slide one in! Right? Or maybe not.....

The months of preparation for this job is overshadowed only by my concern for safety. There is a real and eminent danger here. So, starting at the top, lifting the house at each corner above the rotten log being replaced was at first my solo job. It went very smoothly and we shifted into work mode. Unable to find antique logs as replacements, we decided to hew our own and try and copy the technique used on the originals. Over time these logs will age as far as color, or they could be stained to match. George has decided to let them age and stain them later if they need it. By the way, trees cut to make way for the new fire department were given to George as logs for his restoration.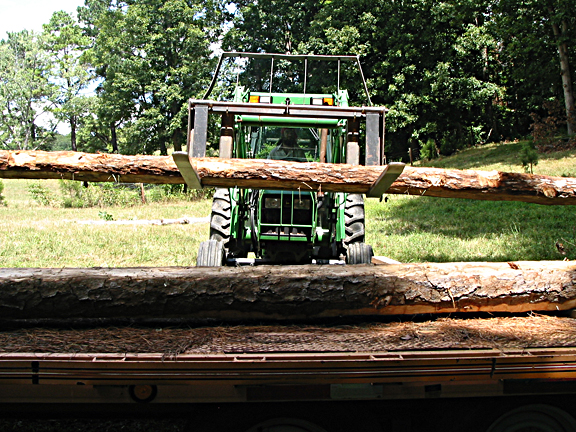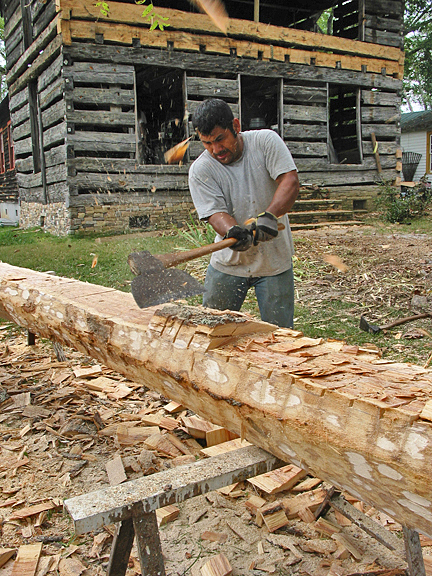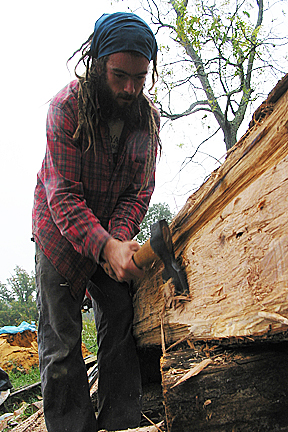 Cory shaving the face of the log

With new logs ready for replacing rotten logs, it's time we tested our magic...levetating the house. Our guests were the Architectural classes from
Forsyth Tech
in Winston-Salem. It is good to show how a simple design and construction plan can remain so sturdy, even after removing some key components. You have to recognize the load bearing points and the structural members that hold it all together. It's amazing to balance yourself on a beam and feel the weight of the house on the pump handle as the house literally rises around you.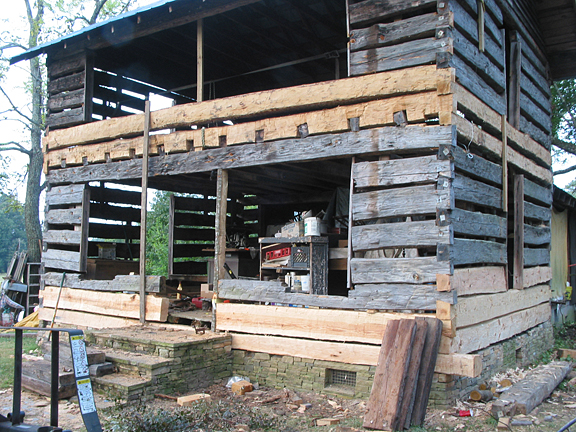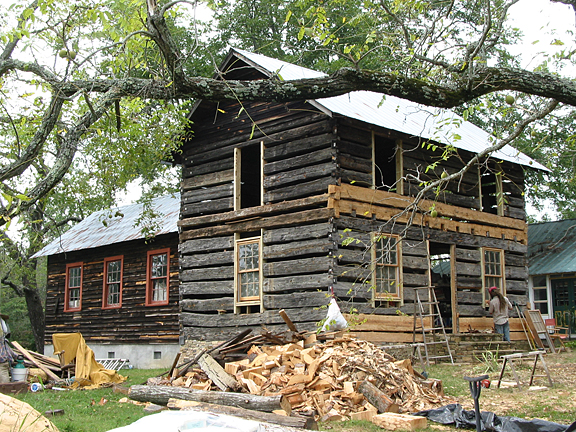 After completing our log work, we have a barn.







It's been a fast run to this point and what we have accomplished has made a huge difference. Next, we set all the windows, insulate and nail screen between the logs, and chink the outside. Meanwhile, the wiring is run and inspected. Then the inside is screened and chinked.

After framing for windows and door, we have a house!

What followed next was the downstairs floor, upstairs floor, staircase, ceiling and ceiling joists upstairs, front door, casing windows and doors, painting the exterior and then something about building a rock fireplace!

So, while we completed our list of jobs, I discussed the rock fireplace with George to see what he had in mind. A firebox designed to throw out maximum heat for the log part of the house and a much larger firebox on the back side for heat and cooking, all built of rock. My oldest son directed me to the Brick Institute and a study on fireplace designs of existing, working fireplaces from 1790-1860. Commonly known as Rumford design fireboxs, smoke chambers and etc. We drew out the plans which George approved and we went to work.

I'm not a rock mason, but Cory and Camilo are. So that leaves me as laborer. Mixing cement, moving rock, cull brick, and other fill was exhausting. So when we went outside to the roof, I had to find an equalizer. I built a slide with rollers to ride up my aluminum walk board powered by a block and tackle hooked to the end. Worked great but still exhausting. The younger fellas had to lend an occasional hand.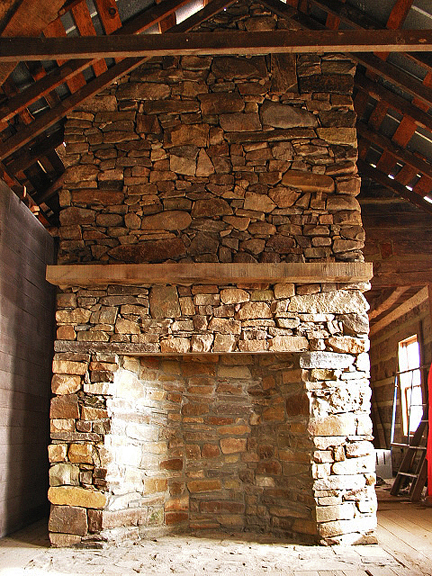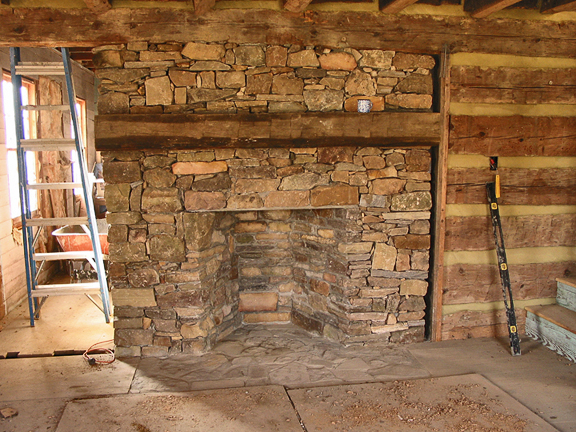 With the back porch finished we leave George's log cabin. We will return to     finish the kitchen and whatever George needs to have repaired. Until then, it's off to an 1880's farm house situated on one of Winston-Salem's busiest roads. See you in warmer weather, George!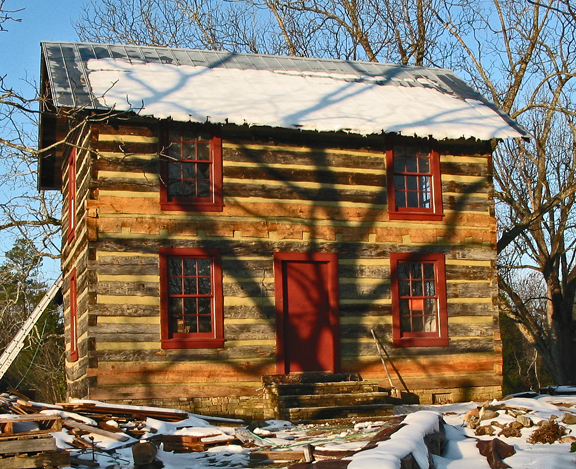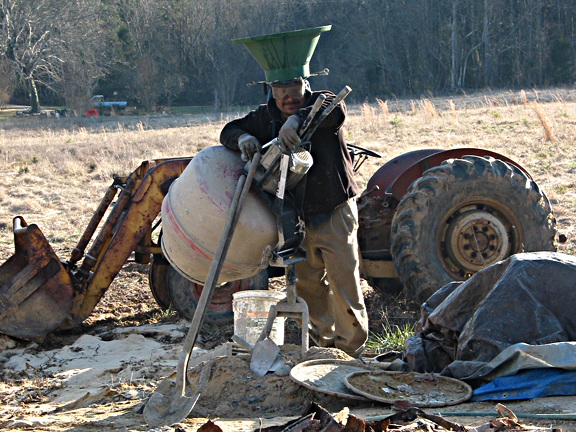 "I caught it out of the corner of my eye and it's like, is it human?"

After building the rock fireplace, we all found a way to relax, some were just more creative than others.